Here's something from the embarrassed and ashamed section of my Netflix queue.
We're watching the "Degrassi High" series and there's nothing like hearing the endless litany of "Suurries" and seeing Amanda "Spike" Stepto's beautiful haircut.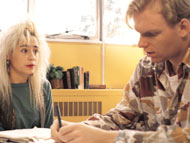 What can I say about "Degrassi"?
For some of us growing up in Jesusland there were a lot of questions that didn't get answered questions that, well, concern hormones, and girls, and, uhm, Kotex. To be fair, it's not because my parents were prudish, religious, or too-embarrassed to talk, but there are some things you just want to not to have to ask about.
"Degrassi" provided that outlet, or input.
In the first episode we deal with the topics of:
Abortion
Pregnancy Test
Teen pregnancy
Periods
In other episodes we cover:
Handicap accessibility
Breaking up
"Just Being Friends"
Abusive friends
The utter baloney of content in girl magazines
in a realistic, sensible, neutral way. The dialog, while delivered through a lens woodenly, is legitimate dialogue through the issues: Pro is given, con is given, traditional is given, moderate is given, and the characters make a decision that, while you may disagree with it, is understandable.