POSTS
Concert promoters need a reality check
Blog
At the Interpol show the tickets said that no cameras were allowed….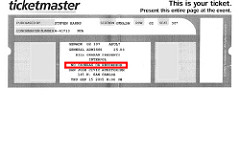 …yet it's very obvious that the presence of recording devices such as cameraphones, phones used to record the music, and Canon Elph cameras would not be denied. It's time for BGP and artists and promoters to come to their senses and realize that they cannot stop the shrinking and fidelity improvements of
taping / recording / image producing devices.
They should take an attitude whereby for some sliding scale percentage they will let you have access to a recording area. The better the equipment, the bigger the royalty. In the end it only serves to create more demand for the band to come back. On the up side, for the artists, if they got in on this cut they stand to beef up their bottom line. Naturally the greedy music industry will see this as another opportunity to exploit the artist for more cash, but it would be nice to find a way whereby artist and attendee both have