I had a very nice weekend this past weekend and I will write about it now:
Friday night there was an exciting one-day cricket match between Australia and India at the Sydney Cricket ground. It was a very intense battle in the last hour where India needed only 30 or so runs to overtake the home team. The partnership was strong with India captain Sourav Ganguly on the strike. In an error, his partner ran when he shouldn't have and the bowler stumped Ganguly and sent him in. Then after a series of stellar catches Australia finished off the Indian batting line and won the game. It was great!
After that I headed home. Saturday I headed up to Coogee beach and explored the area for apartments and had breakfast at a very nice little cafe not far from the sands. It was rather hot and I headed up to Bondi to take a look at the surf which was completely flat. I decided to head on home after that. I arranged with Big Al to meet up in The Rocks district with some of his friends (Dangerous Dave, Leo, and his partner Helena). We had a few beers at the uber bar (a bar on top of a German-themed restaurant) before we headed over to the Cruise Bar on a wharf that extends out into the quay.
It was the usual scene of Sydneyside glamour, guys in thin light button-down shirts and slacks, girls in black form-fitting low slung pants, extra moist moisturizer on the faces dashed with glitter, the obligatory standard house music..the usual.
Leo and Helena had had their fill about 1 and they headed off home. Dave, Big Al, and I headed over to a place called Aqua i think which was quiet and relaxed. After a few beers we were ready to turn in. Dave took the bridge (by foot!) back to North Sydney and Big Al and I grabbed a Mackers on the way back downtown.
We parted ways on Park street and I headed to bed.
Sunday I slept in and then headed out to Bondi. I hit the surf about 2 right as the waves started to come in. I had a really good run and was very tired about 4 when i returned my board. I wandered down Campbell Parade (the main beachside street) and found the usual open-air market. I got a Chinese Massage , and bought some 'Thai fisherman Pants" - they're really light and pretty comfortable and are "beachy".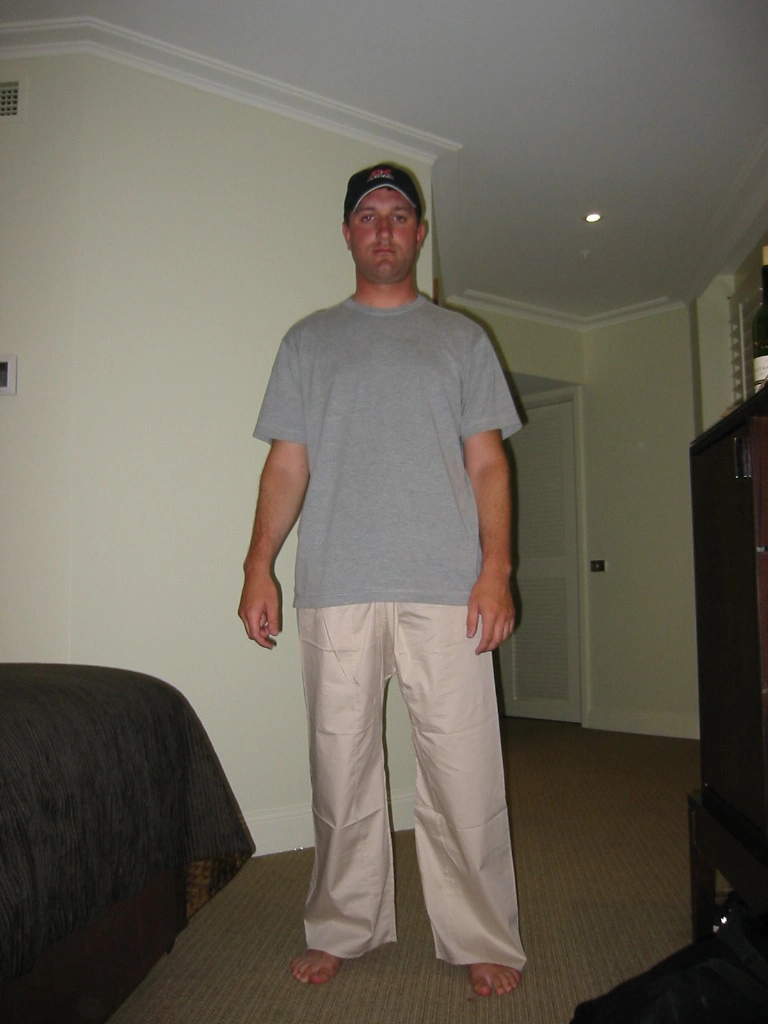 I then went to Gelbison's pizza and grabbed a pizza to go and ate it on the beach while attacking The Cathedral. All this deep rumination on the aesthetic life versus the Catholic life is really hard for me to get through – but I'm just not the kind of guy who puts down a book half-read.
The pizza gone I headed up to the bus and went back to town. On the way back, I noticed that some of my friends from the New Windsor hotel were lurking about so I went in and had a few drinks with them. After that a shower was due and I then hopped into bed, a bit sunburned and slept the sleep of the Sydneysider.