POSTS
Elegy: Death of a Medium-Box Store
Blog
Big-box: of, relating to, or being a large chain store having a boxlike structure
– Merriam-Webster
"CityTarget stores are typically smaller than traditional Target stores, ranging in size from 80,000-160,000 square feet, and are some of its highest traffic locations in the company," a press release reads.

As for in-store difference between CityTargets and traditional Targets? CityTargets modify product packaging and size to fit the needs of the urban customer.
– Business Insider
In 2017, Harmon Face Values (..and Beyond) opened up at the intersection of 90th street and Broadway.1 This was about two years into our life in New York and in our first year on the Upper West Side. For two suburban kids come to the city, their big plastic-wrapped bundles of toilet paper, fine selection of tweezers, and analgesics galore meant that we went there fairly often. On top of that, on our second or third visit, we learned that canines were welcome, and that there was a big old jar of dog treats on the information desk. The store rapidly became fully integrated in our lives as Byron learned he could "trick or treat" there. This past week, we found out that they are going to close. I'm going to miss them, especially after they became one of our few havens during the darkest days of the pandemic. Here are a few memories about our a "medium-box" store that I'll miss.
For those outside the city, you can imagine Face Values (or "FV" as it is known so as to not immediately have Byron rush to the door in anticipation) as a two story mini-Bed, Bath, and Beyond; hence, "medium-box" store. Upstairs you can get makeup, paper goods, vitamins or seasonal crap items; downstairs, one finds sheets, shower rings, jugs of detergent, Drano, a vacuum or espresso crockery set.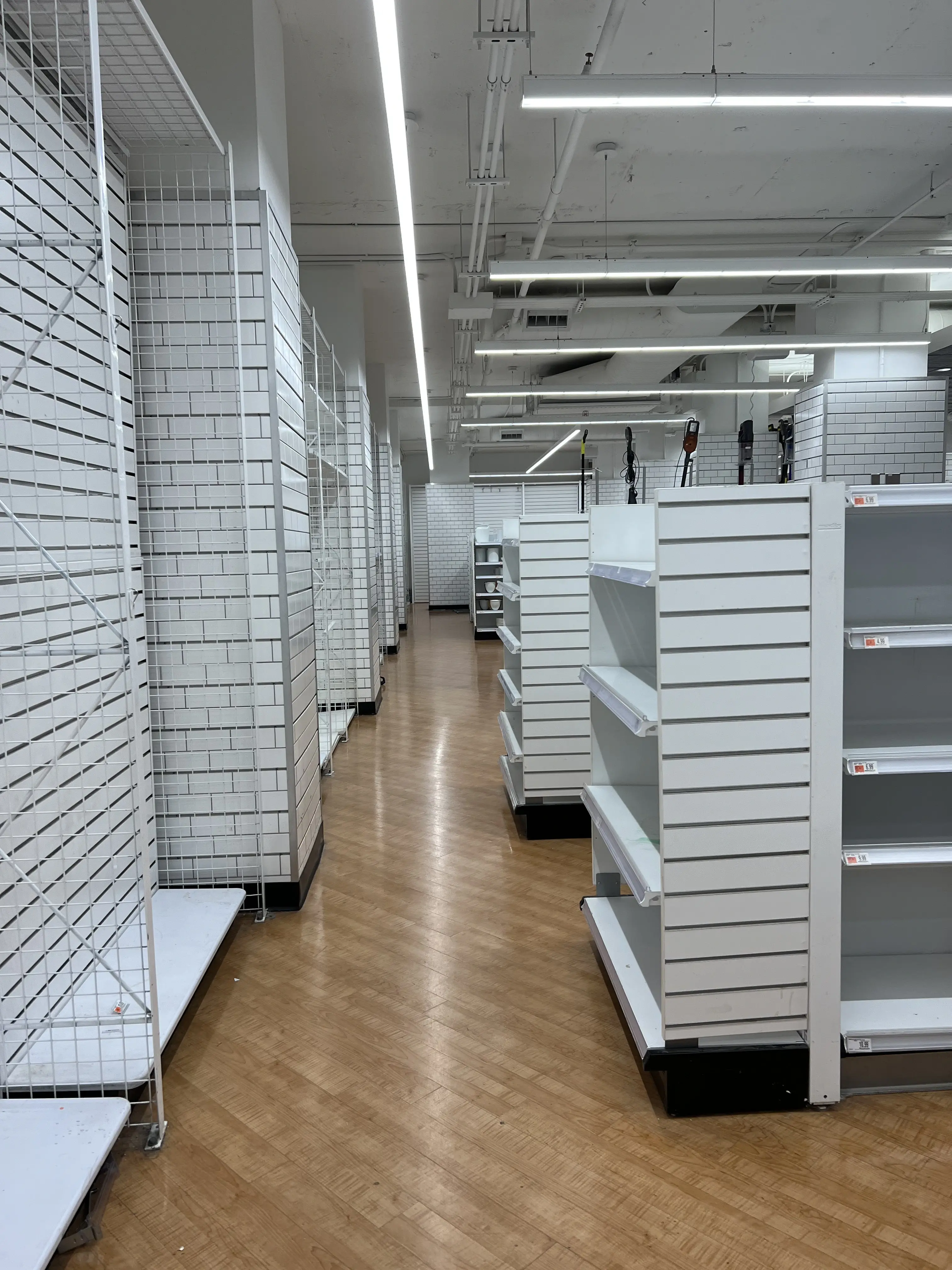 Their product variety, aisle width, and relatively "invested" staff made FV stand out against the usual NYC commercial landscape where you have poorly-run drugstores with merchandise locked up in anti-theft cases, narrow-selection bodegas, midtown flagship stores (Macy's / Bloomingdale's), or daring interlopers of big-boxedness (Bed, Bath, and Beyond at Lincoln Center).
In the absolute depths of 2020, after the pandemic started killing off neighbors and locking Lauren I inside, when we finally were free to emerge from our self-imposed quarantine, FV was one of the first places to open (behind masks, limited entry counts, and protective plastic sheets). I remember waiting in the frigid Spring to be one of the 12 shoppers let in at a time. Decked in nitrile gloves and N95 masks, people evaded each other between pulling items off the shelves and then queuing up 6 feet apart. In the days when basics like toilet paper, aspirin, and paper towels were hard to come by, FV was there. I suppose that's why I'm writing an elegy for them when I wouldn't give a second thought to many other retail shops disappearing.
Perhaps the most consistent part of our experience was their security / greeting individual, Awad. He was always friendly and would greet us and Byron by name. When the store re-opened after the forced pandemic closures, seeing him was a hint of the normalcy we'd lost and the normalcy I hoped we could return to. As the years have creaked on from March 2020, I could mark the pandemic sentiment changing by how shopping happened at my FV.
After a morning walk last week, I stopped by last week and saw huge red signs advertising 20% to 40% off, THIS LOCATION ONLY and I felt my stomach lurch. That's a "we're closing the store" action, alright. I could see that the toilet paper (again) had been ransacked. Other high dollar baby apparatus and medical supplies were also sold out (at 10:30 in the morning that's…surprising). I texted Lauren and I had a few moments to contemplate an Upper West Side life without FV.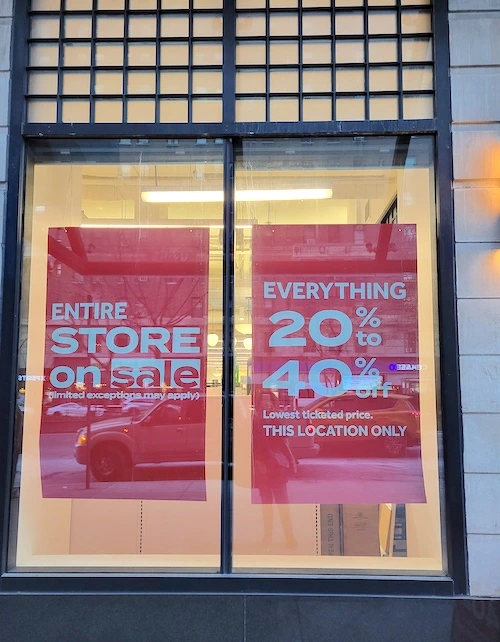 Photo credit: The Westside Rag
She replied with surprise and a little bit of nostalgia too.
This is particularly hard to take because it has been such an integrated part of our lives. I know Byron will stop by those doors for years anticipating that they'll open again, that he'll march proudly to the front desk, and that he'll get his treat. I'll have to demonstrate dozens of times that the doors won't open and that they're "Closed."2
It's also hard to take with the ongoing retail meltdown happening on Broadway in the 80's.
Even before the pandemic, many of the street level shops and merchants had shuttered: an excess Starbucks, Brooks Brothers, countless small boutiques, small bodegas, even a Duane Reade (New Yorker for "Walgreen's"), et al. The motivation behind those shutdowns were largely landlord greed and preferring to take a hit of a few months unrented than to lease at a rate that would soon be eclipsed by upward rent pressure.3
Since the vaccine era, we've also seen other stores shut down. Many local businesses (cleaners, tailors, and barbers have closed). And I'm sure that Upper West Side outposts were regarded as luxuries by corporate planners ("but we have another one 20 blocks south and that demographic prefers to Amazon Prime everything anyway"). We've seen GNC vitamins, the Health Shoppe vitamins, Victoria's Secret, et al. vanish from Broadway. I consider it a sign of the times that the former Duane Reade has turned into a delivery hub for item delivery app "JOKR." Inside, "essential workers" with helmets and e-bikes warm up and stare at their Android phones while they await a pallet or a ding indicating their next delivery.
In any case, FV has shared, (via The Westside Rag web site) that the store will finally close at the end of February. But with the ransacked shelves, dispirited staff, and customers' knowledge of the future, it feels like a shell until the final locking of the doors. I just want to remember how integrated the FV was in my dog-owning / UWS life, our pandemic years, and how great their security gentleman is.
Footnotes
I never managed to understand the relationship between Harmon and BB&B. Harmon's was a discounter, but the signage features BEYO-N-D with the growing width of type that I'm sure is trademarked by BB&B.
Byron, a New York City dog, actually does know the word "closed" when it's said varying pitches:"cllOOOooOOoOosed." During the pandemic's early phases, it was shocked to hear it applied to the laundry, FV, the pet store, and other regular haunts. 3. The closures of street-front shops is a source of real frustration in local politics. I personally favor measures to tax storefronts that aren't filled. In the case that a lease is not renewed, a penalty ought be assessed such that it is more attractive to keep businesses in place than to have it sit fallow in speculation.