POSTS
Seeing "The Late Show with Stephen Colbert"
Blog
A few weeks ago, in a fit of pandemic-fueled boredom and optimism about the re-opening of Broadway, Lauren decided to see if we could get any taping tickets. She saw that we could sign up for in-studio recordings of The Late Show with Stephen Colbert and we went last night!
Stephen's been profoundly funny, smart, and witty for years. From his diabolical "Chuck Noblet" with Amy Sedaris on Strangers With Candy, to his career-making Fox-esque infotainer satire persona "Stephen Colbert" on The Colbert Report, to the present work as a thoughtful and reasonable interviewer on the slot formerly held by David Letterman, he's proven himself to be an entertainer for all seasons.
I can't describe how impactful his roast of George Bush was during the height of the early aughts. There are roasts and then there are the irradiated atomic cinders Colbert left of Bush at the White House Correspondents' Dinner.
To see someone level the kewpie doll of the horrible culture war deepening rhetoric that would metastisize into Trumpism all those years ago was…was… hoo-boy, something this anti-Bush liberal boy needed and relished.
Since that time he's shed the "Stephen Colbert" persona and played it relatively straight on his evening chat show. I also admire that he's never polemical or didactic (unless resisting polemicists, dictators or assholes), and he's always willing to grant the other side fair arguments. I was particularly moved by his discussion around religion (he's a Catholic) with atheist Ricky Gervais.
So, we got to see the show tonight! Read on for details!
We arrived at 4:30pm and were tested for vaccination certifications and tickets. We were told this would be a masks-on kinda party so we got ready.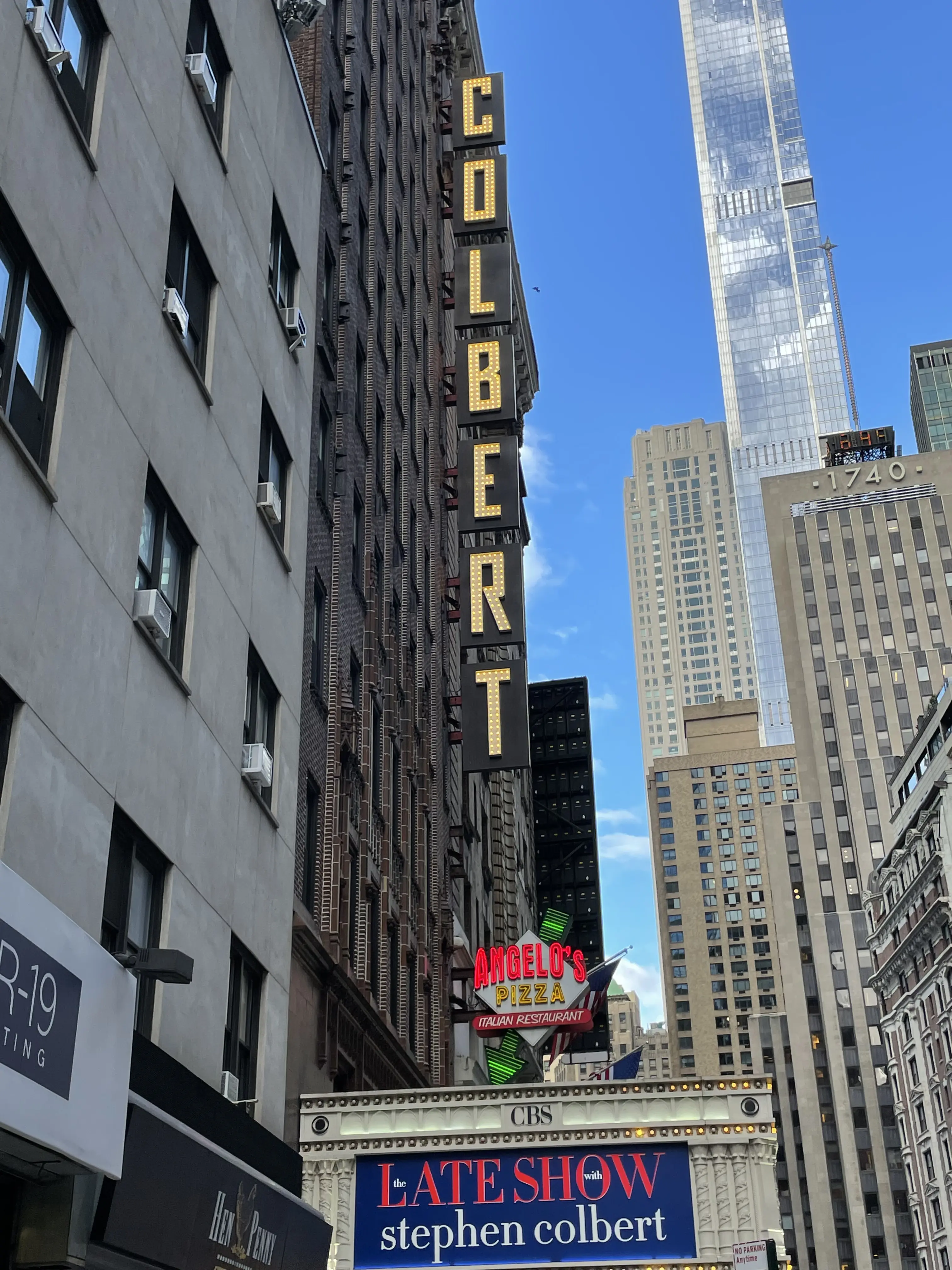 After about an hour on Broadway's sidewalk, we were told we made the cut and were ushered in through security and into the theatre. Having "General" i.e. "pleb" tickets, we were ushered into the upper gallery of the theatre at the corner of Se&ntild;or Wences Drive and Broadway.
It's a beautiful set with cool blue lighting throughout so that it feels much later in the evening than it was. The interior is surprisingly cathedral like with many gothic motifs. Working with this motif, both stage right and stage left have stained-glass inspired images of Colbert and the Band. We weren't allowed phone use inside that space so. No pictures.
After a good warm up, Mr. Colbert did a Q&A with the crowd. I was elated that the first question was about Strangers With Candy. He told an amusing anecdote that the rule of writing on that show was that if it made them laugh it went in. This rule often lead to them hoping that someone at network would cut bits that were too far, but they rarely did. As a result the show was much more surreal than they had ever planned.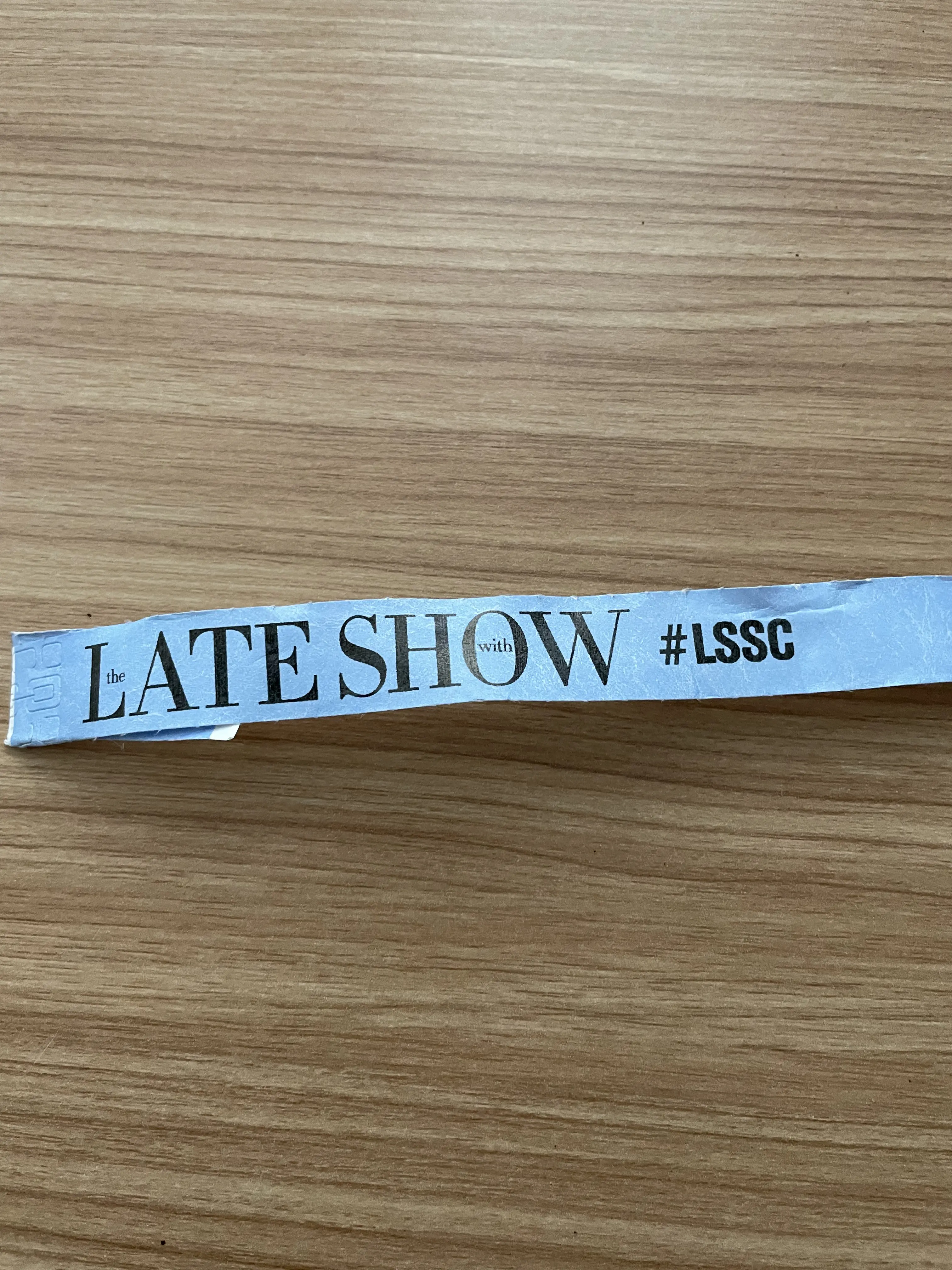 For me, the real highlight was the AH-MAZING house band Jon Batiste and Stay Human. Just. Wow! I had never heard the band do anything but an intro or an outro on the show, so when they let loose with something that my New Orleans Music-loving ears and feet immediately new as brass band stomp, I was in heaven. Only after did I learn that Batiste was raised in Kenner and Metarie and was the latest generation of a Trem&actue; and brass band dynasty. The sax, the piano, the tambourine, the baritone tuba, the bass, the percussion, it was amazing. If ever I get a chance to see that band…They were so great.
Now it just so happened we were in for a performance where they were taping the Thursday and Friday show. So we were there for a quite a while. The main on-stage guest was John Lithgow who, in his older years, has really accomplished everything a Great Actor can accomplish: Churchill in "The Crown," Henderson with Harry, Albee plays with Glenn Close, Prince Farquaad in the "Shrek" universe. Playing with the audience, Colbert told us of the guest and said the man could do anything, but the one thing he wouldn't do is play Rudy Giuliani. A few moments later "Rudy Giuliani" came out…of course by one of the most talented actors on stage and screen ever, John Lithgow. For those of us who love camp movies, to get the dental abnormalities appropriate to Giuliani, Lithgow brought his dental prosthetic from "Buckaroo Banzai."
Strangers With Candy and Buckaroo Banzai? Swoon.
The musical guest was an Afro-futurist act called Theo Croker who had Wyclef Jean for some of the rap interludes and Batiste on piano. It was a really excellent performance. I loved that Croker is fusing jazz horn with hip-hop. They were electric.
Anyway, after being there about two hours were were famished and we headed over to the Shake Shack. After being a little bit uncomfortably cold in the theatre (visitors, I admonish you to bring a jacket!), we were glad to thaw out and grab a late dinner. Having eaten we hopped the 1 line back home and 10 minutes later we were hanging with poodle.