POSTS
Review Hyatt Regency New Orleans
Blog
Hyatt Regency New Orleans Review
On Wed, Oct 11, 2017 we checked into the Hyatt Regency, New Orleans next to the Superdome on Loyola Street. We were using this hotel as our home-base for our trip to NOLA to finalize details around cake, catering, accommodation, flowers, etc. for our wedding in 2018.
We were given room 2250. While there's much to recommend the hotel: the dining amenities, nearby restaurants and conveniences, as well as its beautiful decor, we had an issue with cigarette smoke befouling our environment that was, in the end, so poorly handled by management that we will not be using this hotel for room blocs and which cost them a whole 3 stars in my rating.
Rating: ★★★☆☆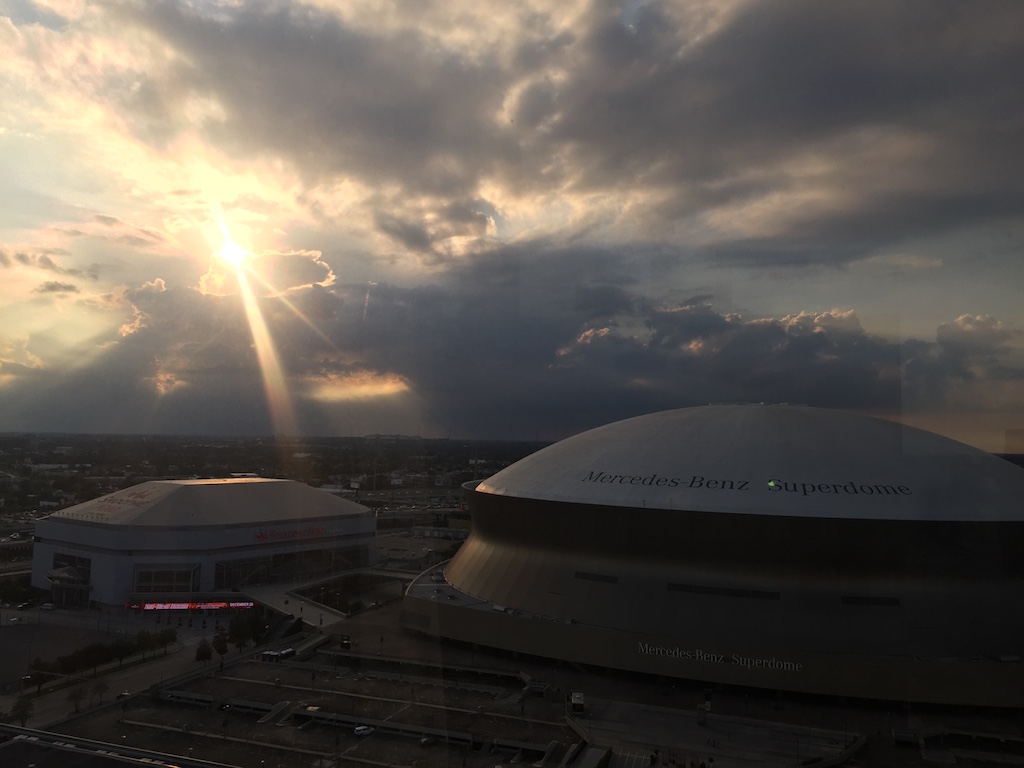 The Good
The Physical Hotel
This hotel was absolutely devastated by Hurricane Katrina. Reopening in 2011, it serves as a marker of the indomitable spirit of the people of New Orleans. It has been redone elegantly and tastefully with an emphasis on conference space.
The aesthetic, decor, and services all conform to the standard expectation associated with the Hyatt name. The beds were soft, the d&eactue;cor sensible, modern, and minimalist. The towels were soft, the water pressure strong, etc.
The hotel features what any New Yorker would call a bodega which sells tourist merchandise, razors, books, magazines, toiletries, etc. If you forget something, you won't have to leave to hotel to purchase a short-term supply.
We passed a bar as well as a full-service restaurant which both seemed to be well-appointed and well-populated. There was even live music on the weekend days which added some "French Quarter" feel to what is a essentially a very corporate hotel experience.
Staying the CBD, the traveler acknowledges that they will not have the easy French Quarter bacchanal environment outside their door. They will need to spend $10 on a taxi to be dumped into that environment. On the upside, this can be very helpful for resting peacefully for business travel.
The Vicinity
The presence of a bodega hints that the area was once too empty for guests' comfort. Walking South to Girod there's very little to "walk into." You really get the feeling that you're in a ghost town after the work day ends or during the weekend. However, this has started to change recently as there are a number of new condo developments with restaurants / facilities in the ground floor that hint at making the area a walkable / livable place.
The hotel forms a sort of anchor to a revitalization of the CBD district. Within a short walk we can find Johnny Sanchez's, a hip and industrial aesthetic Mexican restaurant, a sports bar and a Jamba Juice off of Poydras. Also a few streets over via Girod on Baronne is Rouses Market where you can find wonderful Louisianan specialties, drinks, wine, etc. — think Whole Foods with a healthy dash of Louisiana Pride. For those who are allergic to the price premium on hotel services, Rouses will ensure your travel dollar goes to specialties and not to incidentals.
Additionally, there's also a CVS directly across from the Rouses, so if you don't want to pay the mark-up on the hotel bodega, CVS has you covered. In the Rouses / CVS area there's also a number of tasty restaurants and coffeeshops that I'd recommend. We dined one night at [Willa Jean][WJ], a John Besh alumna Kelly Fields' restaurant, and were very pleased with our menu. Their biscuits are like a blend of the flakiness of a Parisian croissant with the, ahem, rib-stickyness, of a Dixie biscuit.
Room Service Quality
We rarely order room service, but after an exhausting day out and about, we simply wanted to dine in. We ordered a wonderful pasta chicken alfredo which would seem pretty difficult to mess up or to excel with. But the kitchen did a wonderful job and it was a really fine meal. By way of comparison, I ordered something remarkably similar at the vaunted Café Amelie the very next night and the room service was better!
The Not-So-Great
Noise Pollution
We booked here knowing that the beloved Saints' season would be in full swing. We knew that Sunday would see a game and that we should expect noise, inconvenience, and large-scale WHO DATT-ing. We made peace with this before our trip.
What was not accounted for is that the adjacent plaza adjoined to the Superdome is the locus for many cooler-season (!) activities like bike races. On Saturday we were awoken to the sound of a pre-race announcer giving helpful information about where to find bibs, etc. I always travel with earplugs and the hotel helpfully gives you a set as well. But I have to be honest, they just didn't cut it. While earplugs can block sound's clarity, it doesn't stop it entirely. Over and above that, the PA system is so powerful many sounds simply are body-vibratingly loud. This was one of the reasons we were so tired that we needed room service (mentioned above) — we simply didn't get the rest we desired.
I don't know what the hotel could do to remedy this situation: install white noise generators? Note this condition and grant a steeper markdown? If you're an early riser or are early out the door this might not be an issue, but for us it was a real dampener. Management is either underplaying or unaware of the sheer volume of the PA system next door. Similarly, the hotel features a gorgeous pool where you might plan to relax and lounge…keep in mind you will be in the aural blast-zone of that PA system.
Look, I'm not being unreasonable, I realize we stayed a few hundred feed away from the Superdome. But I think the assumption that we would be better insulated is not unreasonable and I think the hotel could be more up-front about the exposure of the room.
As expected the noise associated with game day was at the same level. We were roused from slumber by cover bands amping up the crowd with hits from the Journey, Tom Petty, and KC & the Sunshine Band list of standards. Sigh.
While I might have taken a star off for this oversight, management's poor handling of a grievous problem and lack of customer follow-up is why they will not be a location for our guests during our wedding. I cannot trust them to handle egregious problems well or thoroughly.
The Abysmal
Failure to Provide Care to Customer
On our last night in New Orleans, after a birthday dinner at Café Amelie, we returned to the hotel at about 9:30pm. At the lobby Lauren and I split ways: I to Rouses to get some Louisiana treats for friends back home and she to pack up for our early flight.
As I walked back I got a text from Lauren stating that the room reeked of smoke and that she was moving to 1550. Upon returning to the room I was immediately hit with with the reek of cigarette smoke: it smelled like the smoking room at a casino in our room. Both Lauren and I are highly smoke sensitive allergic. The walk in closet, and our hanging clothes, smelled of smoke.
On the night-stand a warning taunted us: "This room is non-smoking. Violation carries a $250 cleaning fee."
We had been out of the room all day (as later validated by the room access records). Had someone been smoking in our room? We checked the safe and our bags. Nothing seemed missing but we immediately had that sinking feeling that one has when one's space is invaded unexpectedly.
We called downstairs and GREG, sent BRUCE, a bellman, to our room to move our hastily and incompletely packed smoke-befouled belongings. BRUCE was helpful and cheerful and got us set up in the new spot.
I contacted the front desk and asked that the night manager KILLIAN HUNTER and the housekeeping services manager JACOB LEBLANC meet us on the 22nd floor. They both did and explored the room with us. Not only was the housekeeping quality poor, by my measure, the smoke reek was noted by both management figures.
KILLIAN and JACOB showed great leadership in terms of hospitality and asked if they could do anything to make us comfortable. They sent along a tasty wedge of chocolate cake and sparkling white white upon learning that this was what we returned to after our birthday plans. I was invited to follow-up with JACOB the next day or with the day-manager CHRIS MARANTO in the morning.
At checkout, it would so happen that CHRIS was doing the work. I explained who we were and what had happened and asked for resolution.
CHRIS explained that JACOB had checked the access records and could assure me that only housekeeping had had access to the room. JACOB also interviewed the housekeeping staff member who reported that they had not noted smoke smell in the room. This left the possibility that smoke had traveled through the duct-work from another room and had impacted our room.
Seeing how a $250 fine was at stake, I'm inclined to believe the housekeeping staff. It's certainly in the hotel's best interest to keep smoke pollution out of the space. But I really wanted to know what had happened. Was it possible that the duct work was routing? Occam's Razor suggests that someone killed some time in our room, smoking, but surely no one would be so egregiously disrespectful to do that to a guest, right?
At the conclusion of our discussion, CHRIS gave me his business card. We couldn't dwell on the matter further, we needed to catch a flight.
As a measure of the quality of hospitality would-be guests for our wedding could expect, I wanted to see if this management team was the type that would go that extra fact-finding mile. I followed up via email with CHRIS at the address given on his business card on the 20th, 4 days after the incident. As of yet, I have not received a reply.
This evening, when I attempted to create a "Customer Service" issue at Hyatt.com, I was unable to. I believe there is some sort of character limit on their form, but the software is broken such that it doesn't tell users what's wrong or missing. Because I've been unable to escalate this issue to the appropriate leader, I'm going to post this review as is. Should they follow-up with me, I'll update this post.
Take-Away
For me, this is unacceptable in a parter who would host our wedding guests. While the dialog with JACOB and KILLIAN had started positively: apology, token of consideration, etc. The conclusion has been underwhelming. Were I the manager I would:
Apologize and provide a token gesture (they did!)
Offer to clean any clothes
Provide a voucher for 2 free nights (roughly equivalent to the smoking fine). This puts the company's money "in jeopardy" and communicates: "I'm so confident that I'll get to the result, I'm putting a stake in."
FOLLOW-UP. If a malfeasant reason had been found, apologize and offer a voucher for the full stay; broken trust needs to be repaired with extension of kindness. If smoke had drafted via the building, apologize and explain their plan to correct ducting in the future. Whatever the case, Hyatt has our phone number, why didn't they call us? Great customer-oriented organizations do that.
Update
Talk about fast!
Within 24 hours of posting this issue to the Hyatt official site, DOTTIE GROVES, Director of Front, called me to follow up. She explained that based on the interrogation they had done, their only conclusion is that smoke had traversed the ventilation system (which is why it's a non-smoking property).
She sympathized with our experience and asked if she could extend to us a complimentary night's stay at the hotel so that we could experience the hotel's standard quality of hospitality. I really appreciate Hyatt stepping forward on that front and offering me their best explanation and a gesture of appreciation. I'll update this review based on that experience within the next few months. For the moment, let's give them a provisional 3-star. I'd like to bump this rating up upon a second visit. We'll see!