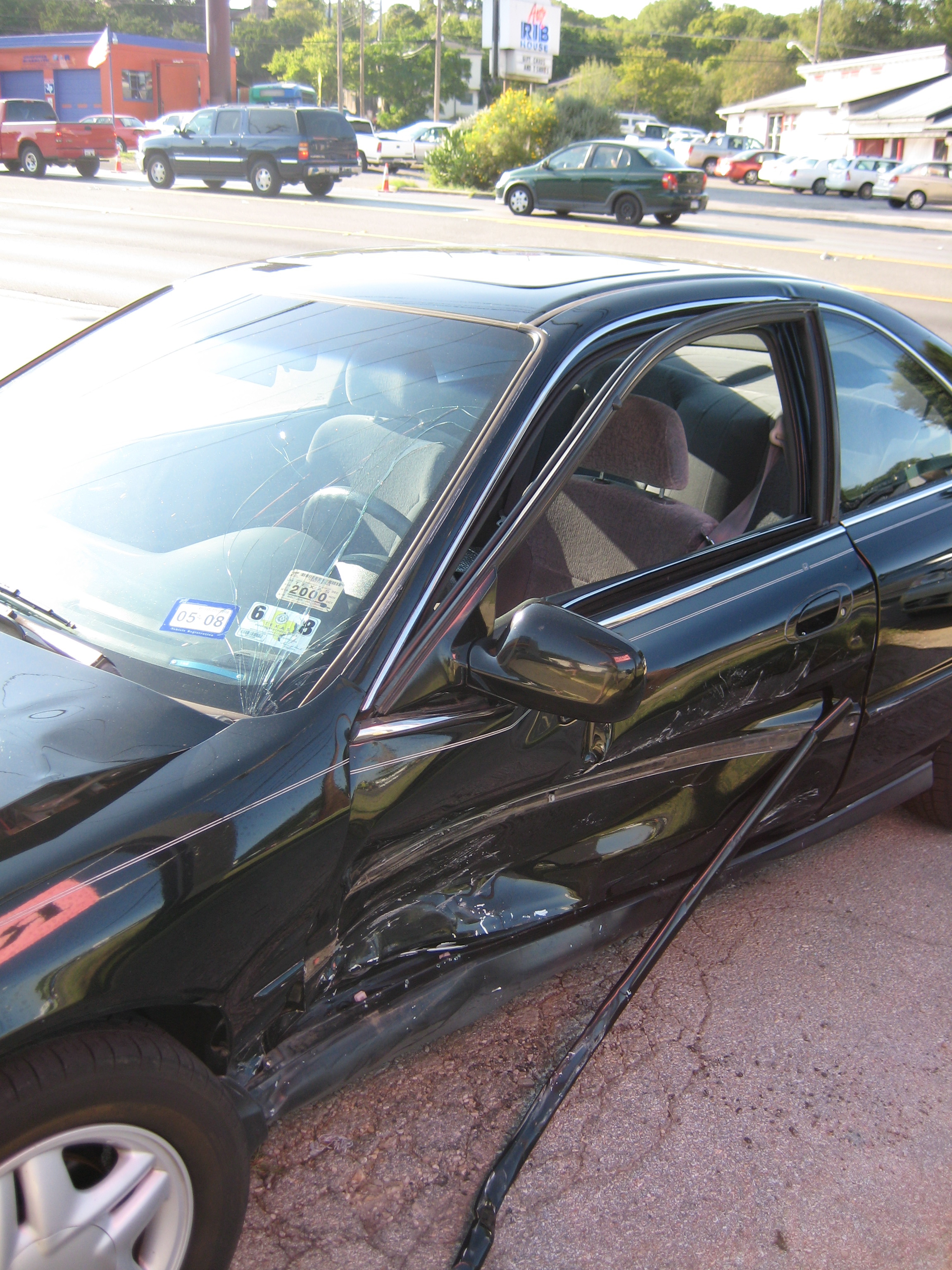 "Steven"
By the middle syllable I knew something was very, very wrong. I grabbed my bag and tried to work my way out of the conference ballroom as unnoticed as possible.
"Car accident…everyone OK…"
I drove with single-minded focus south down MoPac and swung onto North Lamar.
"At least everyone was OK…she's OK, she called me"
I approached the spot and the car looked OK from the right, and then I parked and saw the above.
The fear that had been gnawing at the periphery of my awareness came into full focus.
"The other car was in the boundaries of this car…"
It was incongruous, seeing the thirsty, distracted girl whole and shaken and seeing the bent metal before me. I traced my finger along the shattered glass in the door to feel something real of the trauma.
She had been in an accident, a wreck that hit her square in the door - the weakest part.
Having lived things I can say now, coherently, that Saturday Lauren was involved in an accident on South Lamar. She's got shoulder and neck pain and had a scratch on her left leg. She's recovering. It seems so strange to me that she is walking, talking, safe in the other room as I type this, and, right now, I can see a grisly mangled box on wheels.
But she's safe right now, but she's safe right now, I repeat.
Today the insurance company called and told us that the car will now go the way of the Charon. Said the adjustor: "They always walk away from Honda's…she's really very lucky".
Farewell, Honda Accord, you have seen the heights of Tahoe, the lows of Pete's Path and the ways of MoPac. You have picked me up, taken me to school, been to HEB, and ferried us throughout the South Bay. You loved San Francisco and baths at the apartment care care center.