POSTS
DITMSGHOD: 90's Edition, Strikes Back!
Blog
The League doubted my objectification powers, he did not think that I could come up with a list of ultimate hottitude to rival his. Shortly before I fell way seriously sick (again) in late February I started this. Now, I finish it. Keep in mind, that during the 90's I was between the ages of 13 and 23, so I'm covering from Freshman year of high school to college graduation, roughly.
The early years
Cindy Crawford
You may not remember, but in the 90's Miss Crawford was every-where.
She was doing Revlon ads, hosting house of style with her Midwestern non-regional diction and in general, ruling every magazine cover in the grocery store rack, and, curiously, marrying Richard Gere.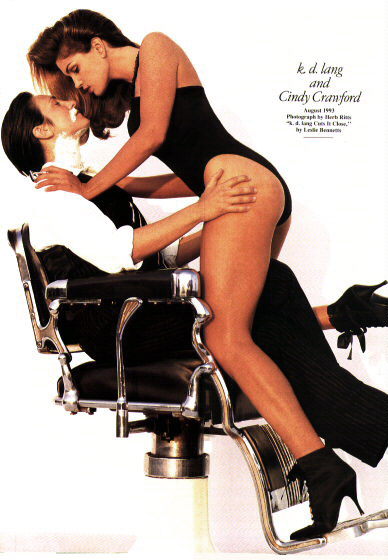 I don't think love for Cindy C. was confined just to the XY among us.
Cindy was so hot at one time she was able to use her sheer presence to make the eardrum acid "Charlie" commercial with Little Richard a "go".
I remember reading an article back in the day that an interviewed mother remarked that she was glad her teenage son was fixating on CC because she was poised, beautiful, and classy-not like that whore Madonna. She's proven herself to be a shrewd magnate, managing the thousand product lines launched by a beauty mark and appears to be living a happy life with her children and husband.
Claudia Schiffer
I can't skip this one. In 1991, on the back of my binder ( it was one of those 'clear view' types ) I had an insert of Claudia Schiffer in a red-washed ad, she wearing a French twist hairstyle and being cupped by a see-thru corset in a Marciano Guess ad.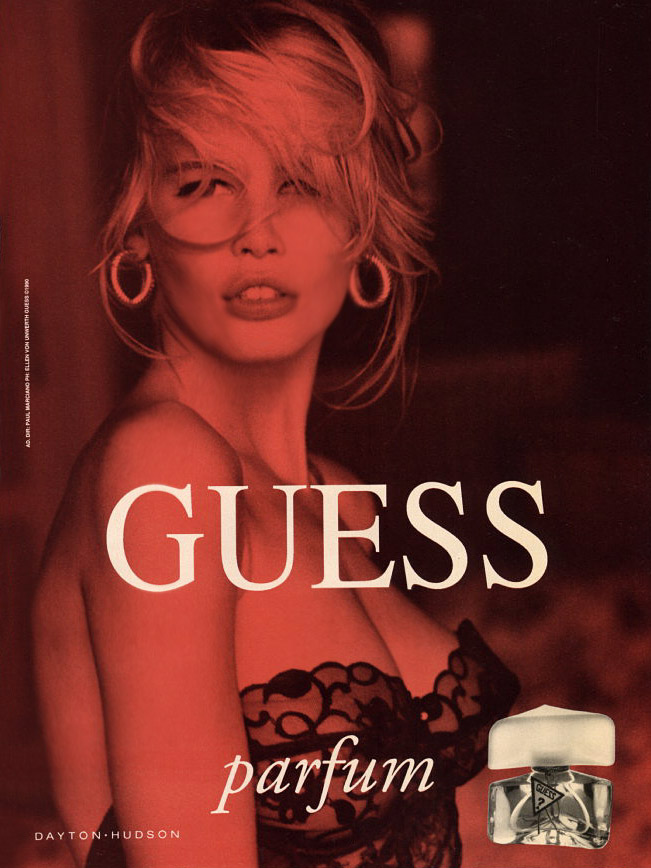 With a bit more perspective on media history I now know that Claudia is pulling a serious Brigitte Bardot channeling session in this picture but it's still a great photograph. I also like Claudia because she, like Cindy C, has something going on between her ears. I read that she knows German, English, French, Greek and Latin. I'd assume this is because she went to a gymnasium for her high-school education.
But by this time my tastes and interests were realizing that the supermodel as icon certainly offered pleasures to the eye, but I was maturing ( arguably ) and my tastes were changing.
Liz Phair
Liz Phair, like it or no, was pretty much my paragon for dating desire. Hot, fierce, brave, mean, unabashedly potty-mouthed, vulnerable, and sexual. That last one pretty much works for most 16 year-old guys on its own. I had seen women be sexy you know Vanity, Madonna, et al. but Liz was frankly sexual. Her first record was a lo-fi masterpiece and i still love to listen to it.
I remember watching her videos on 120 Minutes laaaate Sunday night.: "Never Said" and "Stratford-On-Guy"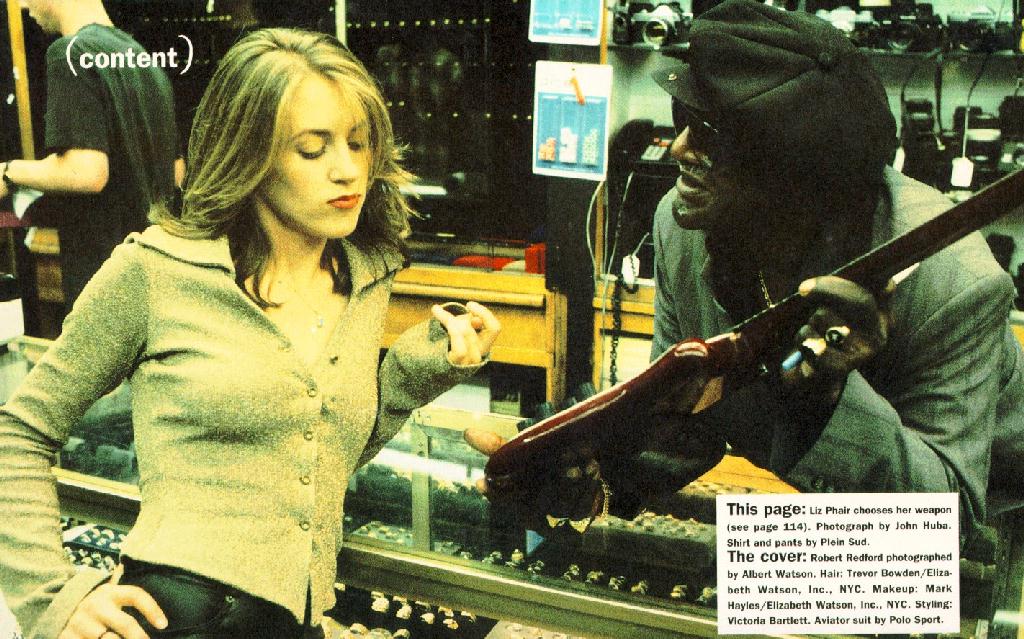 In my pre-college daydreams I always imagine Liz to be like the really cute girl in your art history class who knows way too much about Kristeva and negative dialectic but whom the young dark-haired philosophy student accidentally pisses off and they wind up verbally mixing it up with in front of the whole class and making all of sleepy students and professor bolt upright thinking: "They really have that Liz Taylor / Richard Burton hate part going on other, but their sexual chemistry might melt steel if they could stop arguing long enough to actually sleep together." In the screenplay version of that idea they do and the chief assisting element is "alcohol" which removes his bluster and soften her shoulder's chip. Incidentally in the screenplay the girl cares very much about fashion (shopping like a surgeon at H&M;, carefully carving out the few pieces that, when wedded with her grandma's Swarovski bracelet and the alligator cowboy boots that just went on sale, will totally kill). I don't know if the objective Ms. Phair is anything like that, but there you have it.
My love for Liz's music was still on board all the way through whitechocolatespaceegg - but when she started getting that Avril Lavigne sound ("Why Can't I?") with the computerized re-harmonizers, that "singing through the megaphone gag" trick she lost me.
Liz: You, a 4 track, and a telecaster. Please.
Mid-90's
Uma Thurman
You were under a rock if you missed the Tarantinogasm of the mid-90's. This poster defined dorm walls the US-over ( including mine ).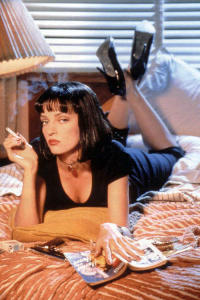 What was it about Uma in this movie? The page-girl haircut? The cigarettes? The dotted-line square in space? The overdose of sugary-pop in the labored dialog (Diablo Cody, your master is well pleased)? The vomitus after the overdose (opiate-induced, not pop-reference induced, nor Diably Cody induced)?
Gwyneth Paltrow
Once, in this strage world known as the 90's, Gwyneth Paltrow was cool. No, really. Here's proof.
I remember hearing around 1997 that in "Marie Claire" GP was sent to a desert island for 48 hours by herself and she kept a diary about it. I read this article and it was interesting what she thought, how she accepted her situation and made the best of it. She was resourceful, insightful, and reflective. Pretty neat, right?
I had liked her in the mid-90's when I knew her as "Brad Pitt's Girlfriend" and "The lady in Se7en". And what to say of "Se7en", it was Fincher's breakout movie, providing a whole new aesthetic for video-like movies and gore (There would be no "Saw 4" without "Saw 1" and there would be no "Saw 1" without "Seven"). And then I saw her in "Emma". Something about those diaphanous empire gowns and archery that will get me everytime.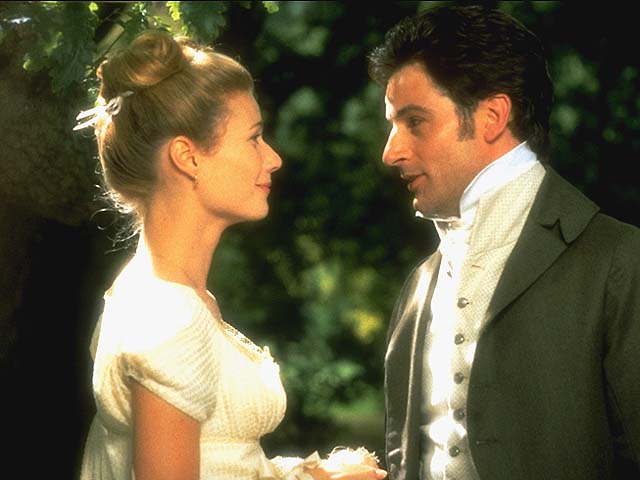 I shall have to call you my Mr. Knightley
I also really liked the movie "Sliding Doors" and it's actually why I try to be so optimistic these days: things that appear "lucky" turn out ill, other things make you cry and hurt, and then turn out to be what makes you happy. Like I tell my special girl, I've gone through a lot of changes, moves, and place on the way to be in the weird space-time-mood that allowed us to be together, so removing a flat tire, job offer, going to the starbucks instead of Dana Street…for such tiny questions the moment might not've happened. It's magic.
And Gwyneth always seemed to capture a bit of that Bostonian / Conn. / NYC prim and crisp and proper casual that you see in Vanity Fair. You know, pastel tops, capris, and deck shoes on a bicycle in from Granddad's house on Martha's Vineyard into town for a baguette, some flowers ( that she will arrange, thankyouverymuch), and the weekend Times.
Now there were hints of sanctimony brewing such as when she opined on the state of rap on MTV with a wrinkled nose that (loosely paraphrased) "Come on boys, can't we move on from this, etc."
But, for the SNL monologue with recent ex Ben Affleck I forgave her this and laughed out loud.
But over the years we've not seen funny Gwyneth as and she's left our American shores to churn out children with birth-control pill pitchman Chris Martin of some band. Nevertheless, I ain't mad atcha GP and I hope you provide some good foil in "Iron Man".
Gillian Anderson, er no, Scully
Scully != Gillian Anderson (although they have remarkably similar bone structure).
I liked Scully: The red hair, the wide collars, her battle with her skepticism and objectivity (all the while being Catholic, how's that wash?). Scully also didn't suffer from the "where's my hero" problem. She saved Mulder's bacon more than once and not by "going and getting the sheriff", but by being a badass. Mad propz to you.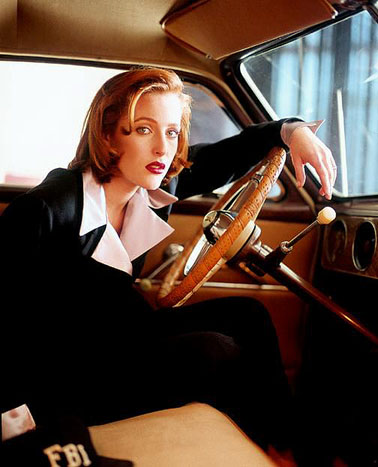 She also had a bit of a 40's vintage glam thing in the promo stills. Liking such a style is surely not surprising from a guy enrolled in a Lindy-Hop class.
Late 90's
Liz Hurley
I don't remember the day, but one day when walking through Foley's to the mall I noticed something in the make-up section that I had never noticed before. A face, beautiful smile, and nice straight brown hair smiling from over the Estee Lauder booth. It was, I now know, Liz Hurley.
Even then, there was something of the humorous about her: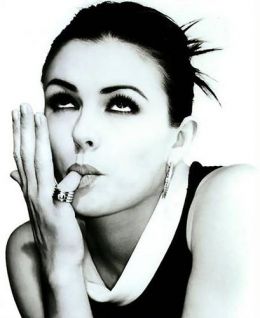 But at the same time she was absolutely keeping up with Austin Powers ( before it was an over-indulgent ego-trip vehicle ) in terms of making you laugh out loud (the cloaked nudity scenes, the way her electric smile grins as she steals the star's catchphrase and gives it a tigress purr "Bee-haaayvve" and the way that she's just so freaking English) she opened multiple new media icon fronts:
Maternal: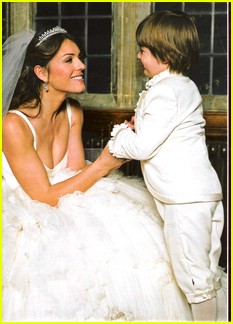 SexyFriendly: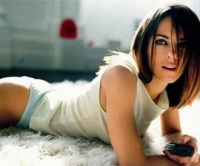 Say, mate, last night was great and all, but I don't want to miss the end of the Fulham match
Dangerous: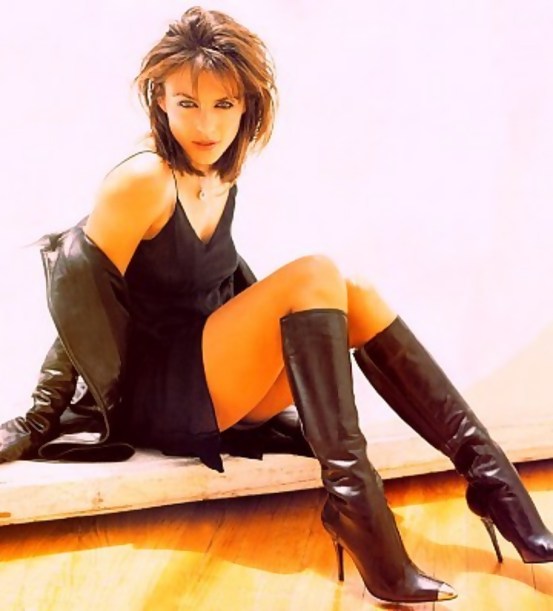 A juggernaut of Media, Liz was undeniably everywhere and never too rough on the eyes.
Milla Jovovich
At some time in the early 90's a girl from Russia came to the US and starred in Austin Scene Creator Richard Linklater's "Dazed and Confused" and had few speaking parts on account of her inability to actually speak English. About this time a high school sophomore noticed her and thought "Man that girl's cute". A few hundred phonemes later she produced a record that produced a video that, when aired on 120 minutes, made said selfsame junior go "Man that girl's cute". A few years later ( phonemes turned out not to be necessary for this part ), Luc Besson gave us "The Fifth Element" where said lady spends the first half of the movie running around in, effectively, gauze.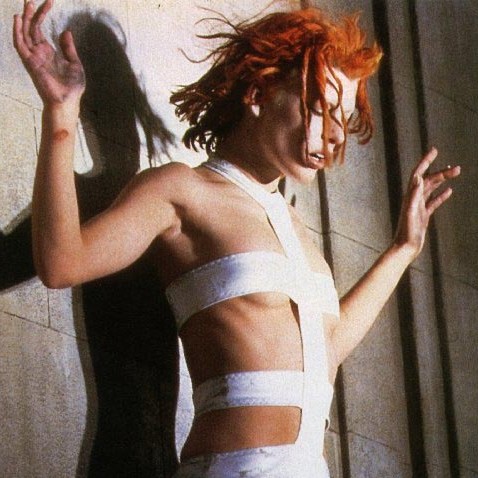 What's weird is that nrrrrdgrrlllzzz I know universally seem to think that fawning over Leelo in the 5th is an understandable thing to do.
Carrie-Ann Moss
The Matrix was the most present movie of 1999. You could not avoid it and, as part of it, the opening scene where C-AM beats the crap out of dudes in a leather catsuit, which was very well lit to show off how well it fit.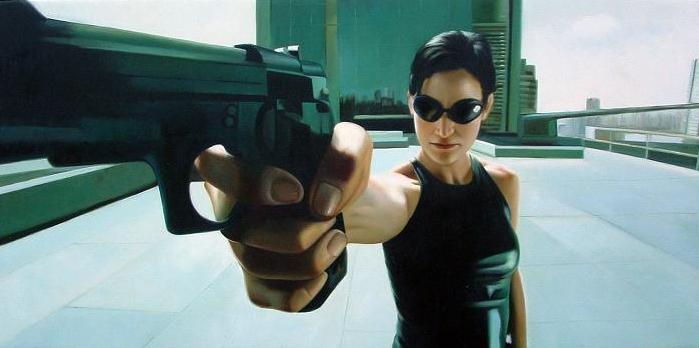 In the 2000's she did a great job in "Memento" and I've heard good things about her turn in "Disturbia".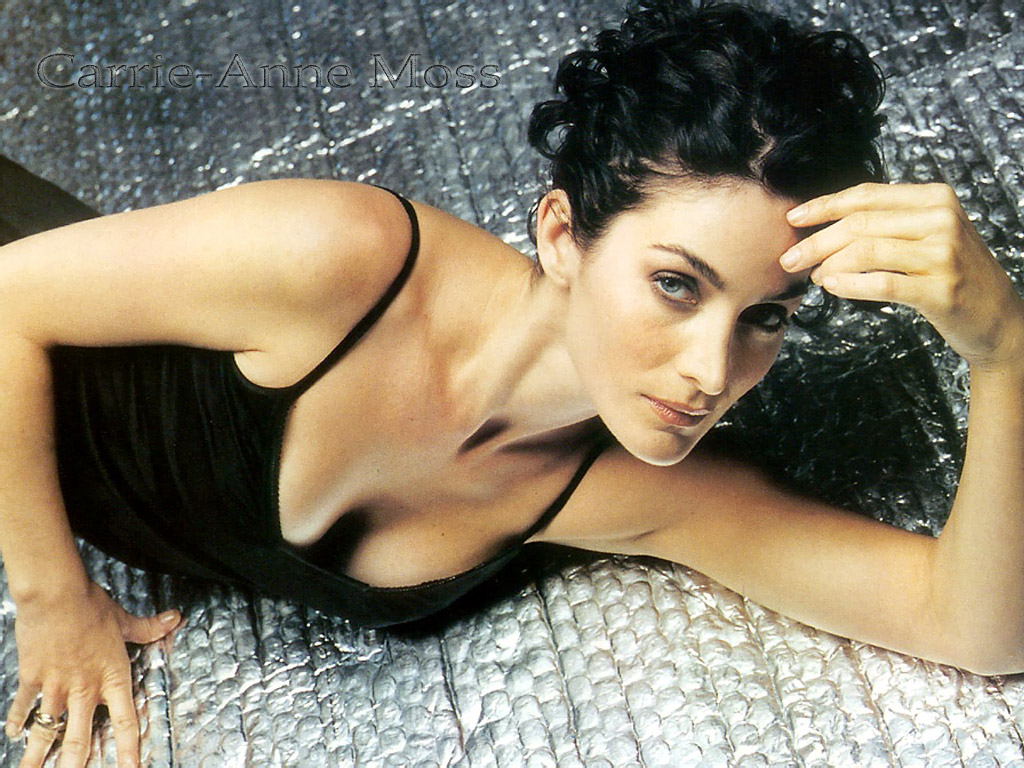 and lastly…
Belle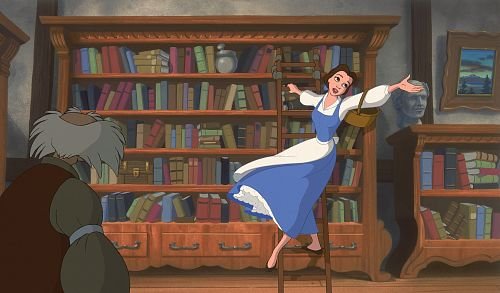 Virtuous, brave, determined, and expressive.
A lover of books.
A person who sees the deeper beauty of a person.
A girl who shuns the easy path and always can be counted on to be good and kind.
As creepy as it is to love a cartoon, Belle is the spiritual blueprint for the "right kind of girl": the one you treat nice, take to meet your parents and with whom you think a life of exploration company doesn't sound at all like torture guys at the bar make it to be, it sounds, well, kinda nice."
Come to think of it, Belle is sorta a bird of a feather with my special gal.
And that's it!
Honorable Mention
"Rushmore Chick" (Olivia Williams)
Juliette Lewis (NBK anyone?)
Madeline Stowe-English wealthy and quiet beauty pretty
Carmen electra (dorm room hawwwttttt)
Shania Twain (Country goes hawwwwttttt)
Aniston early "Friends" years (1996 Rolling Stone with her on the cover was very popular for a reason)
Sharon Stone (B.I. had many sophomores at my high school talking-a lot!)